A multitude of events take place outdoors. Here are some questions to help you plan to perfection. The focus is on the logistical elements.
Think of an outdoor event and inevitably (especially in the UK) we will look at the sky and imagine what impact the weather could have on our event. Whilst this is an important factor it should not be the only one on your checklist.
An outdoor event is a different proposition to indoor events and here are some questions that you can use as prompts to help ensure that your event is a successful one.
Our questions and comments are very generic as there are a huge number of events of all shapes and sizes that take place outdoors. However, here are some base line questions:
Weather Questions
Will the weather have any impact? Some events will carry on despite the conditions.
If the weather could have a detrimental impact what can you do to reduce any potential losses?
Remember also it is not just the difficulty of having a drenched audience but all the logistical issues that run alongside. Moving vehicles and equipment from the site without damaging the ground can be of equal concern.
The wind can impact just as much as rain and some concerts have been cancelled as the sound has just literally blown away the sound in a different direction.
In many instances even if your event is cancelled you will still have to pay Contractors and refund tickets. Insurance may be available but do talk to your insurance advisor or broker for their specialist advice.
People Questions
Can the venue be accessed easily and simply or are you making unnecessary demands of people? Do they have far to walk and is it straightforward?
Will people be easily able to find their cars at the end of the event? What can you do to help ease the traffic flow out of the event at the end?
Have you arranged adequate stewarding into and from the event?
If using volunteers have you trained them to be able to deal with all eventualities?
Is the car parking area on a solid surface or could it become unusable due to water logging and cause damage to the land?
What First Aid provision have you arranged? Do you need ambulances, fire protection and Police in attendance?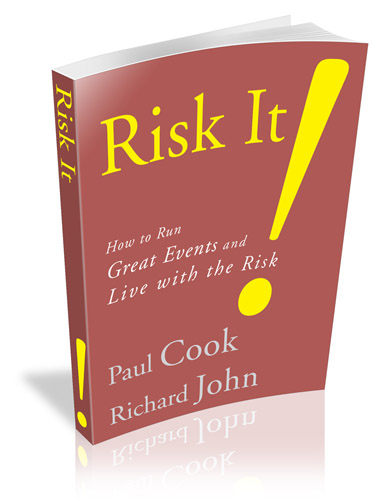 Has the Local Authority placed any requirements on you for successful fulfilment of your event. Sometimes they will require evidence of your insurance before allowing your event to take place.
Have you signed all the necessary licences and paperwork?
When it comes to disrupting traffic and closing roads, have you taken the required action that the Local Authorities require?  This is especially important if you are organising a Parade, Carnival or similar event.
Have you arranged sufficient security to keep people from harm?
Have you checked the insurance covers from your Sub Contractors or other suppliers and are their policies current and relevant. This is a task that you would be well advised to involve your insurance broker, company or advisor to help you.
If your event includes bouncy castles, inflatables and fairground rides have you made sure that the operators have insurance. If they don't, should you be using them? If something goes wrong it is more than your reputation that will suffer.
Equipment Questions
Do you need fencing, generators, portable toilets etc?
If so who is responsible for their security and insurance?
Have your confirmed overnight security if needed?
Can the kit be delivered easily to the location?
Have your confirmed the delivery and collection times for the equipment to enable you to make adequate staffing arrangements?
Finally
There will always be new challenges from unexpected sources, whether they are of political, legislative or come from the changing mood of people. Keep reviewing your risks often and you should stand a good chance of making sure your outdoor event is planned to perfection.
See Also
Risking the Weather for your Event