For this post I have used the word RESCUE as the foundation for some event risk management principles. Whilst the principles have been written with one event in mind, you can of course use them for a whole set of events. I would encourage you to ensure that these principles form part of your event management tool kit.
The event risk management principles can be applied to a conference, training session, awards dinner, product launch or any other special event you can think of.
(R) Review
Make sure you are aware of the changing political, legal, and environmental situations that may affect your event. Everything changes constantly even though it doesn't appear to.
We recommend that you make full use of the latest weather, travel and news information. Just click on a few websites or try some TV channels.
(E) Event only
Losses due to Terrorism may be significant for a Defence Exhibition organiser in London but less so for a networking reception in Bath.
Ensure that you have identified the key threats to your event. No two events are ever the same.
Do you have a dependency on a key speaker, performer or supplier? What measures do you have in place to deal with threats to your event?
(S) Simple Plan
A detailed lengthy plan that sits in an office that no one looks at or uses as a doorstop will hardly be useful.
Keep your plan simple and accessible; memory sticks, copies outside of the office are examples of good practice.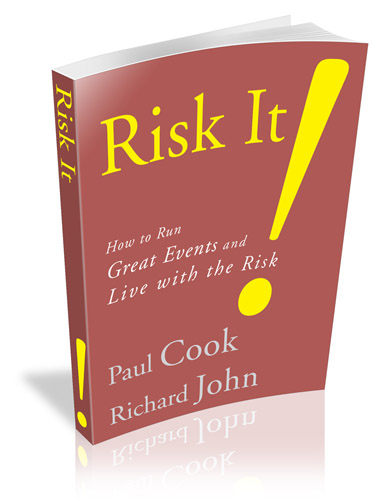 (C) Communicate Well
Make sure your team all understand their roles, and also the methods in place to inform delegates that an event has been cancelled, or has changed in some way.
Communicating effectively is also a great way of managing expectations.
Even if there is bad news to give it is best to deliver it quickly. The worse you can do is to keep quiet as then you will have the rumour mill to deal with.
(U) Unexpected Circumstances
There will always be circumstances that you cannot predict (unless you are a fortune teller) In recent years in the UK we have experienced an outbreak of foot and mouth disease, a lack of petrol at filling stations leading to a petrol crisis and then of course there has been some pretty devastating weather. Did these affect events? Yes, of course they did. What would you do if they happened again?
A Plan B is always a good idea.
(E) Entrepreneurial Thinking
A lateral thinking and problem solving mindset will really help when you come up against the many challenges in organising an event.
When you encounter a challenge you have to find a way of overcoming it. If you work in straight lines you could go out of business very quickly.
I always encourage people to look at the problem in a number of different ways. Invariably there will be a suitable approach that can be used.